Some people call it a hidden gem, others say its just not worth the money. Either way Savannah has plenty of cool things to do without ever leaving the city limits and this one is no exception.
The "hidden gem restaurants in savannah" is a hidden gem that locals know about. The restaurant is only open for lunch, but it's worth the wait.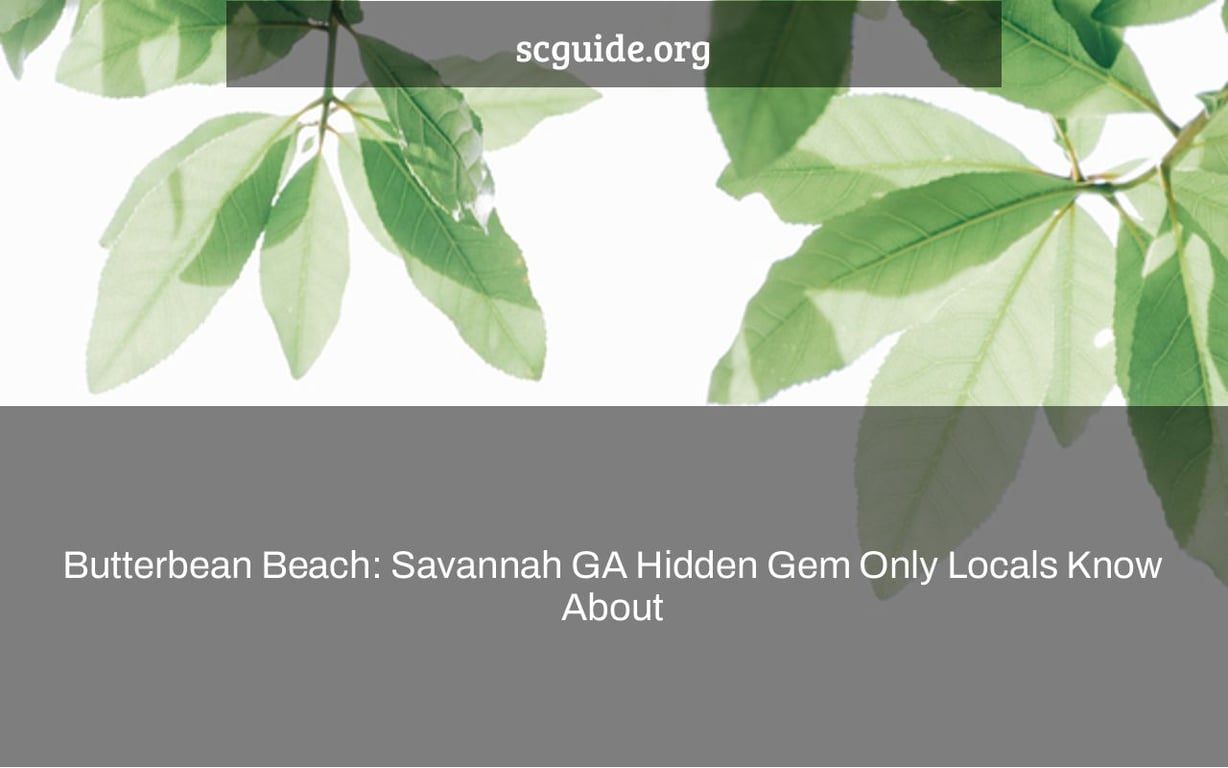 If you're looking for a fast seaside retreat in Savannah, Georgia, look no further. Take in the stunning vistas of Butterbean Beach, only minutes from historic downtown Savannah, and you'll feel like you've left the city behind!
Savannah is recognized across the globe for its historic beauty, magnificent parks, and peach cobbler. However, it also has a wonderful beach that you've probably never heard about.
While Tybee Island is the most well-known beach in the Savannah area, this hidden waterfront treasure is even closer. It's a great place to get away from the city and feel like you're a million miles away.
Butter Bean Beach is located in a park with a tiny beach, boat ramps, fishing pier, bate store, kayak rentals, picnic tables and pavilion, Trucks that serve food, and beautiful marsh views.
What is the location of Butterbean Beach?
On the Isle of Hope, 20 minutes south of Savannah, lies Butterbean Beach. To get to the park, use the Harry S Truman Parkway to the GA-204 Spur. 25 Diamond Causeway, Savannah, GA 31406 is the address.
Just before crossing the Skidaway River to Skidaway Island, turn right at the Rodney J Hall Boat Ramp entry and follow it to the parking area. (You've gone too far if you cross the bridge.)
In Butterbean Beach, there are a variety of things to do.
This Chatham County park provides several chances to enjoy the outdoors. You could see dolphins, otters, or manatees, as well as a variety of birds, if you keep your eyes alert.
Kayaking
Get out on the water by renting a kayak or canoe. The Skidaway Narrows, Moon River, and nearby interior waterways are also worth exploring.
Moon River Kayak Trips offers guided tours through the tidal streams, where you could see eagles, osprey, and egrets. You may also join one of their skilled guides on a tour around an uninhabited island.
Swimming
Yes, Butter Bean has a public beach and swimming area. However, since it is a river beach, the water is not always clear. As is common of rivers and marshes, the water may be muddy.
If you wish to sunbathe while admiring the wonderful marsh views, bring your beach chair. Because so much of the sand is buried at high tide, low tide is the ideal time to enjoy it.
Boating
If you have a boat, you may launch it at the public boat ramp and tour the neighboring rivers. There are two double boat ramps, as well as space for your tow car and boat trailer in the parking lot.
The boat ramp is open to the public and is free to use. There are no fees or permissions necessary for the launch.
Fishing
Near the bridge, there is a great fishing pier that takes you out over the lake. It's close to the boat ramp and makes for a terrific picture opportunity!
Anglers may catch flounder, sheepshead, black drum, redfish, sea trout, and even sharks and blue crabs in the area. There's also Bandy's Bait Store, a full-service bait shop with live bait and all your fishing equipment requirements.
Before you start fishing, be sure you have a Georgia saltwater license. State citizens and non-residents have differing criteria, and both short-term and yearly permits are available. You can find out more information and buy your fishing license online.
Picnic
If you wish to enjoy the shade as well as the view, there are many picnic tables and a picnic pavilion. Bring your lunch in a cooler, get takeout from a nearby restaurant on the way, or check out the Trucks that serve food throughout the season.
The picnic pavilion may be rented, and there are public restrooms on site, making this an ideal location for a gathering or outdoor event.
Trucks that serve food
During the week Trucks that serve food park here, often for lunch and dinner. Be sure to follow your favorite local food truck on social media to see where they will be each day.
You can also check the food truck calendar here to see what's scheduled. Trucks that serve food that have parked at Butterbean include Pie Society, The Bayou Cafe, Mac Attack and Latin Chicks.
Discover This Undiscovered Treasure
Butterbean Beach is a secluded beach that only locals are aware of, and it's a terrific location to take the kids. The ideal seasons to visit are in the spring and autumn, although the summer months may be somewhat congested.
Head to lovely Butterbean Beach Savannah, GA, if you want to get away of the city for a couple of hours and appreciate nature.
The "unique things to do in savannah, ga" is a hidden gem that only locals know about. It's a beautiful city with plenty of outdoor activities and history.
Frequently Asked Questions
What do locals do in Savannah Georgia?
A: Loving the Savannah, GA area? Wondering what to do here? You should check out these local places and activities.
Is Butterbean Beach Savannah Ga clear water?
A: Butterbean Beach Savannah Ga is a beach, so it has sand and water.
Is Savannah Beach and Tybee Island the same?
A: They are not the same beaches. Savannah Beach is located on Georgias Atlantic coast and Tybee Island is in South Carolina, only a few miles from Savannah. The beach areas of both locations have beautiful white sand beaches that are absolutely stunning to look at.
Related Tags
hidden gems in savannah ga
where do locals eat in savannah, georgia
off the beaten path savannah, ga
unique dining experiences in savannah, ga
best restaurants in savannah