Cunard Line is the first cruise line to partner with the Royal Shakespeare Company. The two organizations are joining forces in a new venture that will allow passengers on Cunard ships during their 2020 season to attend performances at some of London's most famous theaters, while exploring one of Europe's great cities.
The "cunard musicians" will perform live aboard the Queen Mary 2. The performance is a first-of-its-kind partnership between Cunard Line and Royal Shakespeare Company.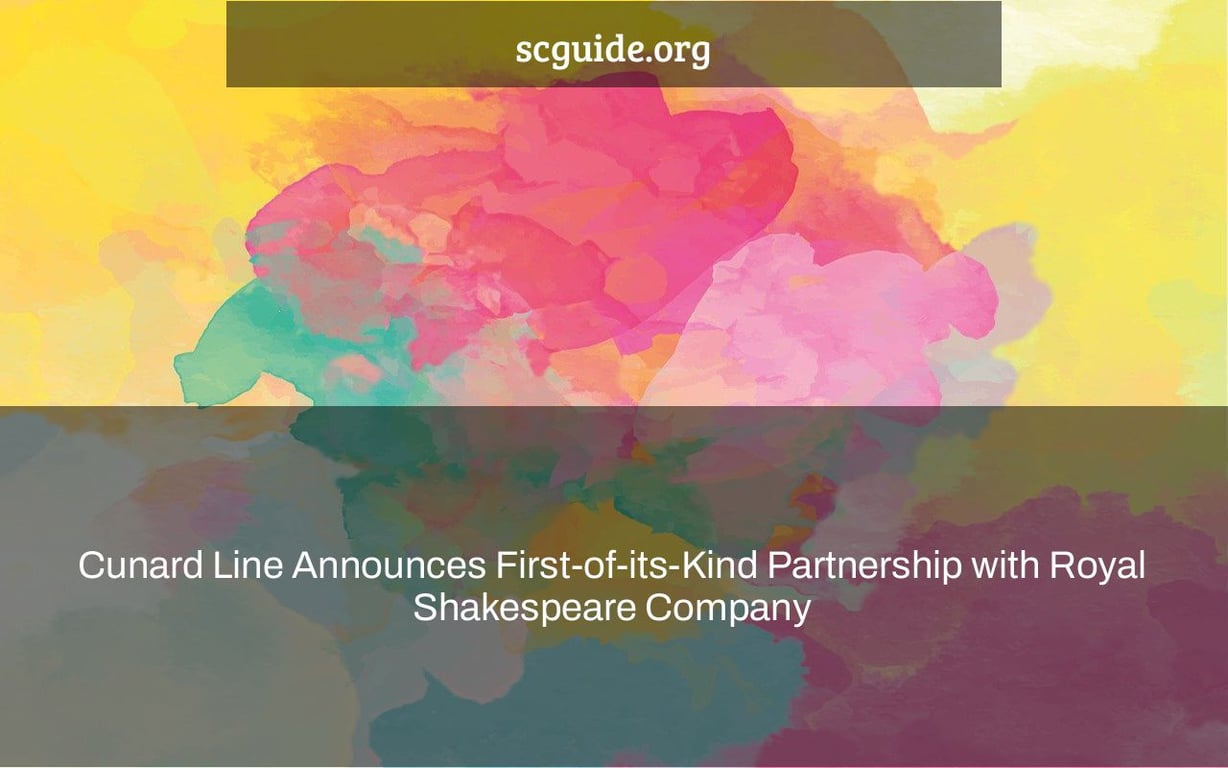 Cunard Line, which is already recognized for providing incredible entertainment on its transatlantic trips, has announced an exclusive three-year relationship with the Royal Shakespeare Company, which will be offered exclusively aboard the line's flagship, Queen Mary 2. The company's actors will also participate in acting seminars and other onboard activities.
The Royal Shakespeare Company is partnering with the Cunard Line.
Cunard's unique relationship with the world-famous Royal Shakespeare Company (RSC) will commence on May 29, 2022, with performances onboard the Queen Mary 2 on select cruises until August 12. A second round of performances will take place from September 15 to November 13, 2022, with 2023 and 2024 dates to be announced subsequently.
The RSC will deliver personalized theatrical performances for guests on these chosen sailings, bringing works by Shakespeare, his contemporaries, and other literary icons past and present to life.
Miss Littlewood is an RSC production. (Courtesy of Cunard Line)
One of the performances will be Boundless as the Sea, a new work by Owen Horsley that features a unique combination of Shakespeare's love scenes. According to Horsley's website, Boundless as the Sea contains extracts from famous Shakespeare plays such as Romeo and Juliet, Macbeth, Othello, and others.
Miss Littlewood will also be performed aboard by the RSC in a shortened version. This celebrated musical by Sam Kenyon, which will be having its transatlantic premiere on these crossings, recounts the story of Joan Littlewood, one of theatre's most humorous and daring individuals.
"It gives me great pleasure to welcome the Royal Shakespeare Company to Cunard! "Our Transatlantic cruises are recognized for spectacular onboard experiences, and our new relationship with the RSC maintains and enriches this heritage," Jamie Paiko, Vice President, Sales, Cunard North America, stated. "To provide our visitors with unparalleled access to current performances as well as Shakespeare's best work is a once-in-a-lifetime event that they will totally immerse themselves in."
Shows Aren't Everything
The RSC performers will conduct seminars covering the technique of acting for anybody interested in understanding what it takes to be a member of this world-class company in addition to aboard performances. There will also be a series of "Shakespeare Tales" — private, casual evenings in which the actors play their own favorite sonnets and speeches while simultaneously answering questions from the audience.
Workshop at the Royal Society of Chemistry (Photo Courtesy: Cunard Line)
"We are thrilled to be collaborating with Cunard to offer our performances to Queen Mary 2 passengers, as well as unique chances to meet professional theatre artists and learn more about our house writer," said Erica Whyman, RSC Acting Artistic Director.
"Boundless as the Sea," as Juliet refers to her love for Romeo, "will be a heartwarming taster of all the ways Shakespeare explores love and romance, and we are also very pleased to be presenting a version of the joyous, quirky, and toe-tapping Miss Littlewood," Whyman said of the onboard selections. "This is a great new endeavour for us, and we're extremely excited to welcome new audiences aboard."
"Digital Diorama: An Augmented Journey Through Shakespeare's Stratford" will be a travelling display at the Queen Mary 2. Guests will be able to see scenes from Shakespeare's plays on their own devices. To display Shakespeare's work and immerse visitors in the playwright's life, the exhibition employs augmented reality technology similar to that used in popular applications like Pokemon Go and BBC Civilisations.
Hamlet, Henry V, The Merry Wives of Windsor, and As You Like It will be among the RSC's most popular recent shows to be presented at Cunard's on board cinema, Illuminations. Illuminations Theater is a classical music facility as well as the biggest planetarium at sea, in addition to holding movie screenings.
Watch This Video-
The "Royal Court Theatre Company Cunard" is a partnership between the Royal Shakespeare Company and Cunard Line. The first-of-its-kind partnership will see Cunard sail from Southampton to New York City with a stopover in Bermuda. Reference: royal court theatre company cunard.
Related Tags
cunard guest speakers 2022
cunard queen elizabeth theatre boxes
cunard m213
cunard entertainment
cunard literary cruise 2022