The La Casa de la Playa TravFORUM is a community of over 100,000 people who love to travel. The forum's wide range of topics and information make it an excellent resource for travelers looking to plan their next trip or share their favorite memories with other members.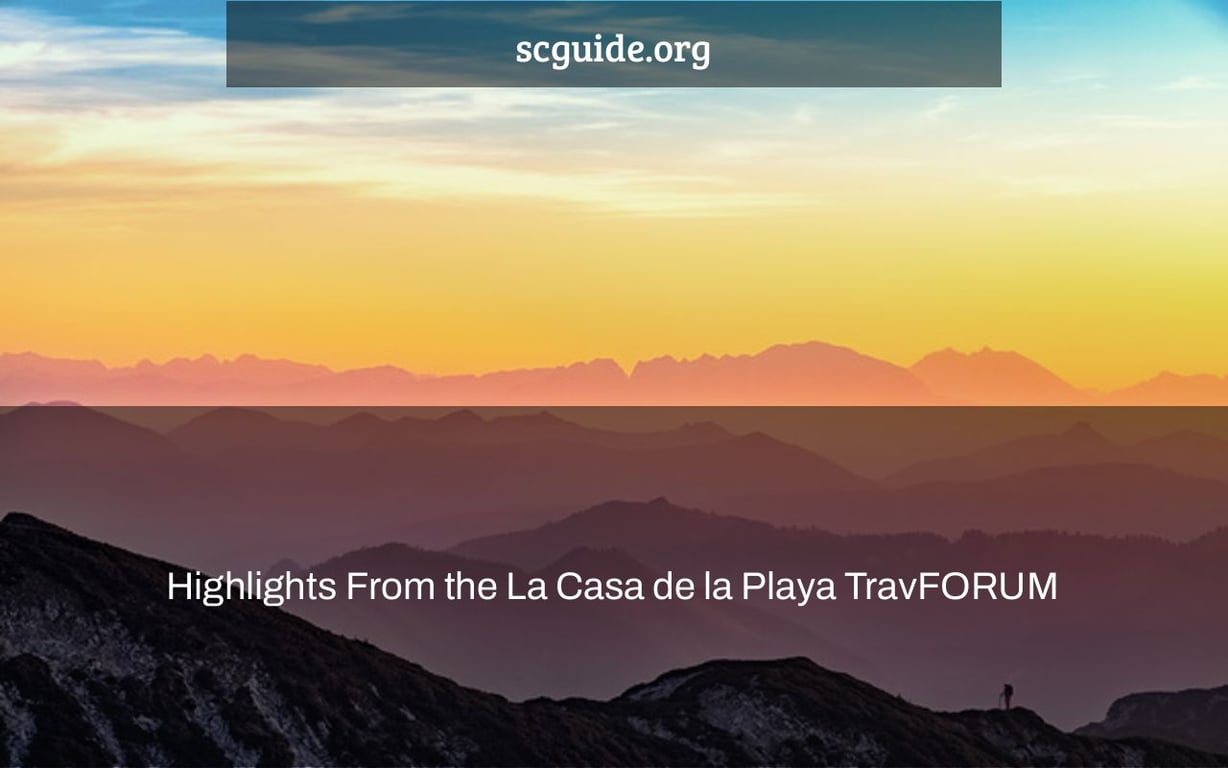 "I'm not going anywhere."
Several travel consultants expressed similar sentiments during the recent TravFORUM event hosted at La Casa de la Playa in Riviera Maya, Mexico.
We hand-pick top-tier travel advisers to evaluate and experience a location, hotel, resort, cruise ship, tour itinerary, and more at a TravFORUM event. The advisers are expected to document their experience on social media, which helps them market the product to their customers and increase their social media following.
It's basically a FAM trip taken to the next level.
"I love this notion because we're so focused on this one thing," The Travel Connection Group's Ronda Helton said. "I feel that being here and immersing ourselves in the many activities, eating, and staff provides us a more comprehensive image to be able to bring to the property to help learn from what we see, what our guests want, and then we all win."
Hoteles Xcaret's La Casa de la Playa is a new boutique premium all-inclusive resort. Guests staying here have access to all of Xcaret's parks as well as the amenities of the nearby Hotel Xcaret Arte and Hotel Xcaret Mexico.
Hosting this TravFORUM was incredibly crucial to Lester Romero, Sales Manager at Hoteles Xcaret, in helping to increase business for the new facility.
"Right now, I believe that's the most essential thing," Romero added. "At the moment, no one is aware of La Casa de la Playa. This is one of the steps we must do in order to spread the message. The most essential thing is word-to-word communication, so having agents here to live the experiences and give us feedback on what we're doing well, what we're doing badly, and what may be improved is critical. Right now, I believe our biggest aim, our main ambition, is to get the word out that there is a product with just 63 suites that offers fantastic value and wonderful experiences that competes with the top high-end brands in the luxury market."
Hoteles Xcaret chose to bring in two groups, first hosting a group of West Coast-based travel advisers for a few days, then hosting a group of East Coast-based travel advisors for a few days.
Each travel adviser was treated to a spectacular luxury accommodation with personal butlers, amazing vistas apparently around every corner, world-class fine dining, a free spa session, and more.
They were also able to partake in some of the custom experiences given to visitors staying at La Casa de la Playa.
TravFORUM attendees before visiting Xcaret Park's subterranean river.
Before the park opened to the public or any other Hoteles Xcaret guests, the West Coast party was able to experience an underground river adventure at Xcaret Park. It started with a Mayan Shaman's blessing and ended with a private taste of Mexican pastries overlooking the sea.
The East Coast group was given a backstage tour of Xcaret Park's legendary Espectacular performance, which is a nighttime display that takes you on a trip through Mexican history. The trip came to an end with a dramatic arrival on the show stage and a specially crafted supper prepared by famous chef Martha Ortiz, who owns the Tuch de Luna restaurant at La Casa de la Playa.
Advisors from the east coast at the La Casa de la Playa TravFORUM
On the last day, each group had a roundtable conversation with officials from the resort to provide their candid views.
Throughout their stay, the advisers broadcast live on Instagram and Facebook to share their impressions of the resort with their clients.
The home and the whole experience really wowed the advisers.
MEI Travel's Heather Coursen commented, "I greatly appreciated this manner over a normal FAM." "We had a terrific mix of site inspections and meetings, as well as time to explore the resort whenever we pleased, so we received the entire experience our customers would."
"When the travel agencies shared their worries, I felt heard," said Mandee Migliaccio, CEO of Stepping Out Travel. "I didn't feel dismissed like I typically do when I'm on a FAM." This TravFORUM was made just for you. I didn't feel like I was simply working; I felt like I was enjoying the resort."
More information about La Casa de la Playa will be available shortly.
Contact our sales team at [email protected] if you are interested in organizing a TravFORUM event.