My parents always told me to never give up and it's been one of the best pieces of advice that I've ever received. After working in professional sales, I decided to pursue writing as a career path. Now, 20 years later here we are still offering quality content with our online magazine for travelers around the world.
The "mile travel" site is a blog that has been around for 20 years. The author, Jesse, has been writing about his travels since 1997.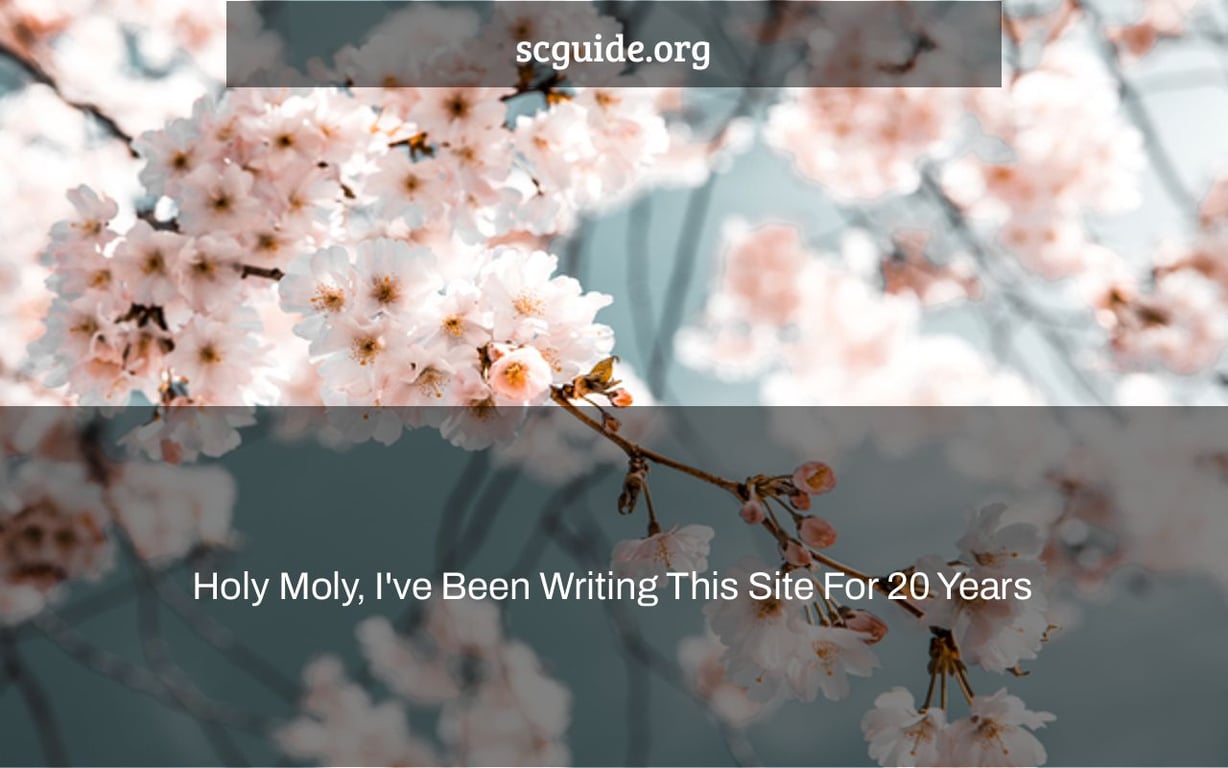 I began blogging on a whim one weekend in May 2002. I had numerous friends who had blogs at the time, so I decided to give it a go. Only, unlike other blogs I knew about, I didn't have anything particularly novel to say about politics and current events. As a result, I chose to write about travel, miles, and points, as well as a diverse mix of quirky news. I concentrated on the issues that people came to me for assistance with as well as things that amused me. I wasn't writing for anybody else except myself.
My old blog site is still up and running, with posts from 2003. The original 2002 entries are no longer accessible, but the most of them are stored at ViewFromTheWing.com. I still have copies of the early postings from late May 2002, but I haven't explored the different internet archive sites for the first few weeks of the blog.
My First Website
In the beginning I'd get 30 visits a day. The very first link to this site came from legal blog The Volokh Conspiracy. Within a year I was getting 500 a day, although there were exciting spikes along the way — Glenn Reynolds of Instapundit would link to me regularly, especially for my coverage of the TSA and the early bumper stickers I created to Impeach Norm Mineta as Secretary of Transportation (the TSA had been part of DOT before it was moved to the newly-created Department of Homeland Security, by the way I still find the use of 'Homeland' to be creepy). The tagline for the stickers was "Liberty & Security Not Bureaucracy."
I didn't start receiving 2000 visitors a day until I was about 4 years old. Links from my boss's blog and an offer to guest write for him were two things that helped me get to that level.
Even when I look back at my early postings, I'm not really pleased with them. Finding my 'voice' took a long time for me.
But it was entertaining. Even though I'm not a natural writer, I like the creative outlet and chance to express myself. Many readers who share my interests interacted with me and I got to know them. In 2005, I even said what I wanted for Christmas and received it from a reader. (This is one of just three reader presents I remember receiving; I appreciate them, but no gifts!)
Blogs communicated with each other more back then than they do now. Blogging was a means of communication. You stated why you agreed or disagreed with someone's post by linking to it. This is how traffic was created. That formative experience has a lot to do with why I give credit where credit is due and why I strive to drive traffic to blogs (by including them in link lists) when I believe they deserve it.
This blog is entirely written by me, yet it is just a small part of what I do.
Long-time readers may recall that I never made blogging a full-time job. This has remained one of the many things I do while several of the other sites grew into full-fledged companies, including selling out to corporations. I still have a job, which provides me with health insurance and allows me to travel for business. I also maintain this blog, founded an award booking service, assisted in the production of the Freddie Awards, advise financial institutions on the travel and loyalty sectors, and even testified as an expert witness in federal criminal prosecutions.
I keep myself really busy, but it's because I like doing so many different things. Meanwhile, I'm still working on this blog. Everything I've learned or believe about firm theory? I'm the polar opposite. Along the way, I married and had children.
Fortunately, I write on my own terms since the blog is only one of the things I do, and everything here is written in my own voice. You are under no need to enjoy my site or every article, and I appreciate your choice. But I speak my mind, I take stands, and I don't remain milquetoast in the hope of avoiding controversy that could turn off certain readers.
That's not good for 'business,' but it works for me. It isn't necessary for me to write it. This site began without any advertisements. When I first started, GoogleAds didn't even exist. Glenn Reynolds paid to have the ad put there by my initial site provider, Blogspot, removed after about a month. Randy Petersen volunteered to host my blog after 7 months. However, I didn't have an ad till 2004. "BlogAds" were selling for $40 a week on my site, and I told Randy he could keep it all to cover hosting fees and the technical assistance his team had provided to get things up and running.
I was earning $250 per month from the site after more than five years of writing. After that, I was earning $750 per month in no time. I've been really lucky since then, but it all started as a labor of love and remained that way for many years. And since I don't rely on airlines or hotels for access or money, I'm better able to stay 'independent' in my coverage of them.
I generate money from various sources other than this site, so I don't have to do anything I don't like to make a livelihood. Instead, I simply keep rambling (as some of you would put it) and if people are interested, they'll keep reading it, which they have, and that's the major reason I'm paid for the job I do here.
Some of the lines I've drawn
I don't take free travel or other gifts in general, but there are certain events I'd want to attend that aren't available to the general public for context or content concerns. When I do decide to attend an event, I always make a charity gift to compensate for any benefits I may have gotten.
For the media, United flew a preview flight of their first Boeing 777-300ER with their new Polaris business class. Because I couldn't purchase a ticket on this trip, which is how I've gotten into prior inaugurals — by purchasing a ticket like everyone else — I offer a charity gift equivalent to the value of what I've received (even after accounting for any tax benefit).
To board the United aircraft, I had to purchase tickets to Chicago and San Francisco, as well as pay for a hotel stay. A first-class ticket between Chicago and San Francisco was also supplied.
I traveled to Richard Branson's Moskito Island with Bilt last October. I was hesitant to spend three days away from my wife and kid; a vacation without them isn't pleasant for me, but I was intrigued by Bilt's activities. I also contributed to pay my half of the trip's cost.
I'm not seeking for status competitions either. I previously turned down a complimentary Hilton status offer.
I don't expect better treatment from flights or hotels as a result of my blog, but I have sometimes told an airline that I'd want to take photographs so that I don't get into trouble and end up in jail. It's never resulted in improved service (and even when it did, it was sometimes still horrible). There have been a few of occasions when hotels have Googled me.
Surprisingly, my upgrade at the W Doha wasn't as nice as what many Platinums were getting.
The marketing manager of the Park Hyatt Vendome greeted me. When I used a verified suite upgrade award, I was given the lowest category room available. I've always done better when it comes to confirming suites throughout my previous vacations! They don't tell me that I'd have to pay for a better upgrade if I wanted it.

I inquired for a room "similar to the one I had last year." Yes, I was informed, and for an additional 100 euros every night, I could have it. I said no. While some may think the room is worth it, I was completely content with the one I was given. A single room isn't normally considered a suite, but it was more than suitable for my requirements.
W Doha
I've taken a few of items with me. I frequently miss out on the social aspects of a briefing event because I'm weary and introverted and would rather do something else; it's not so much about the ethics of a great meal. However, I have no problem eating a sandwich in a conference room if I need to get some work done. It's also not practicable for me to pick up the check if I'm meeting a hotel executive at one of their hotels, even though I'm generally the one who buys in normal circumstances.
By the way, I don't believe there's anything wrong with sponsored vacations; for many, they're the most effective method to create original material and distribute it to readers. I'm lucky in that I don't have to do it. And with my schedule as it is, the last thing I want to do is go where someone else wants me to go or spend time doing things they desire. My time is the most important resource I have – even more so now that I'm a father.
It's 100 percent me, for better or worse.
I don't have any employees. Over the last 20 years, I've only had maybe a half-dozen guest blogs, all of which have been about a unique experience or viewpoint. That also means I'm without an editor and no one to bounce ideas off of. I'm just me, and I try my best to create stuff that interests me (the only reason I'm still doing this after 20 years) and that is hopefully interesting, all while allowing me to sleep well at night.
I still write as if no one is ready, like I did 20 years ago (probably not even family and friends except when I pester them to). That isn't the case, and I am often shocked when anything I write has an impact in the business. That makes me better in certain respects (I don't hold back), but it makes me worse in others.
Thank you for your time. I thank everyone – those who write me (I still try to react to every letter), those who leave comments (including the trolls), and those who just stop by silently. If I were to think about my largest blind spot, it would have to be the comments. I sometimes wish for more thoughtful comments and less trolling. However, they say you get the remarks you deserve, which I accept responsibility for.
I've never felt comfortable doing anything about it, either; I'm stuck in the early 1990s era of the internet, when it was supposed to be this bastion of free speech and democratization, and I've seen moderated comment sections too often used to hide disagreement with what the authors have written, hiding when people point out that they're wrong. I'm afraid I'm not up to the challenge in each particular situation, so I've only felt comfortable deleting or removing comments that are excessively explicit or violent, or that reveal non-public information about private individuals.
So, after 20 years of blogging, what does all of this ruminating amount to? That I've had a great time doing it, that no one can stop me from coming to the keyboard every day today and in the future, and that I thank everyone who reads what I write, whether they love it, get knowledge from it, or feel enraged by it. I'm so pleased I stumbled across this all those years ago on a Sunday afternoon!
More From the Wing's Perspective
Holy Moly, I've Been Writing This Site For 20 Years. This site is a list of the best places to stay in the world for travelers. The "airline points" are a way to earn airline miles by staying at hotels and resorts.
Related Tags
schlappig
best travel points websites
points and miles blogs
straight to the points newsletter
airline blogs