People are growing increasingly aware of the importance of taking a sustainable approach when traveling. Cruise lines have reacted to this by investing in new technologies, such as hydrogen fuel cells and clean energy sources. Experts say these investments will help cruise lines sail into a more eco-friendly future while still being able to offer an affordable luxury travel experience.
Cruise travel is sailing into a sustainable future. The destinations that are benefited from cruise tourism are the places that have been visited before. Read more in detail here: how destinations are benefited from cruise tourism.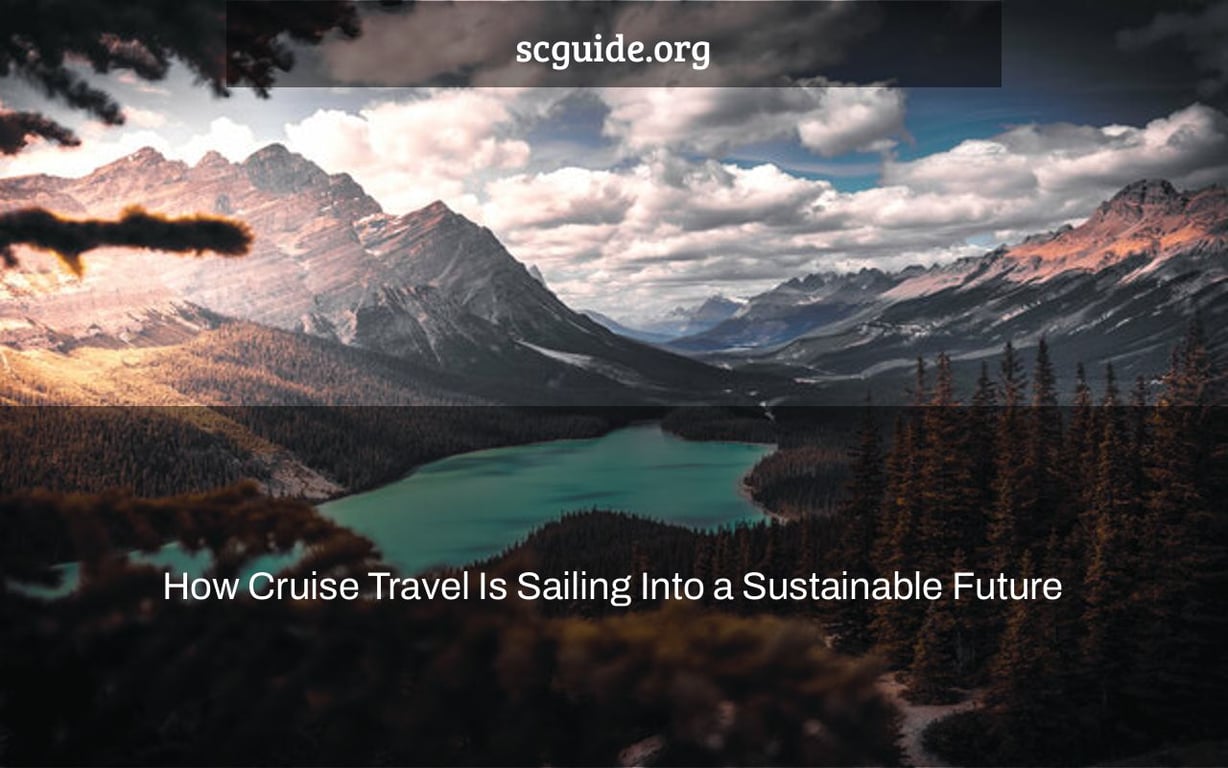 John Sifling, Principal, Broad Reach Maritime LLC, wrote this article.
---
The cruise industry has begun a sustainability revolution, exploring technologies such as renewable energy, regenerative travel, technology-driven energy solutions, wildlife protection, and more. Now, in the face of increasing restrictions and a new generation of environmentally concerned tourists, cruise lines are adjusting to the ever-changing circumstances and tackling sustainability from a holistic standpoint.
ADVERTISING
Industry executives and advocacy organizations have emphasized sustainability measures, recognizing the need for action and support. In 2018, the International Maritime Organization (IMO) released its first plan for reducing greenhouse gas (GHG) emissions from ships, with the goal of reducing the carbon intensity (rate of carbon emissions) of the industry's fleet by at least 40% by 2030. Members of the Cruise Lines International Association (CLIA) have pledged to not only meet the IMO's 2030 target, but also to achieve net carbon neutral cruising by 2050 throughout their entire fleet.
The three primary projects now leading the way for sustainability at sea are advances in shipboard decarbonization, investments in "green" infrastructure at destinations and ports of call, and a focus on animal and ecosystem protection.
What's Hot Right Now
Low-Carbon, High-Efficiency Vessels under Development
Improving ship fuel efficiency and lowering emissions are still key industry priorities. Cruise companies are gradually introducing a variety of technology aimed at achieving long-term carbon reduction goals. The introduction of LNG-fueled ships, which emit virtually no sulfur and reduce greenhouse gas emissions by up to 20%, is currently at the forefront, as is fuel cell technology, a hydrogen-based system that (in a prototype new build) is designed to carry the energy load of a ship's entire hotel operations. CLIA member cruise companies have already deployed four LNG-powered ships, with 22 more on order or under construction, as part of their commitment to reaching rigorous environmental targets.
Cruise lines are investing heavily in a variety of technologies to increase fuel economy, realizing that energy efficiency is crucial to reducing greenhouse gas emissions. For example, to increase hydrodynamics, certain ships now include air lubrication systems and specific paint coats. Many ships are equipped with exhaust gas cleaning systems and may use shore-side power while in port to further minimize SOx and NOx emissions.
Extensive research and development efforts devoted to the identification and production of alternative sustainable fuels, propulsion systems and related technologies are necessary to achieve zero carbon emissions in the global maritime fleet. The cruise industry has joined other maritime partners in efforts to establish the world's first collaborative shipping R&D Board, which aims to generate an estimated $5 billion over a ten-year period to pursue environmental solutions.
Greening the World's Ports
Global ports are accomplishing remarkable advances of their own as cruise companies make gains in ship design and visitor experience. Ports play a critical role in driving industry-wide sustainability advances, from solar-powered terminals to smart trash separation and electric mobility.
Ports throughout Europe, Asia, and Canada are installing shoreside electricity to help ships emit less when moored. Others are developing solutions to provide 100 percent renewable energy shore power or to optimize quays with high voltage in the next years.
Cruise companies have made a commitment to environmentally friendly methods. (picture courtesy of Seatrade Cruises)
Getting to Know the Environmentally Aware Traveler
The cruise industry's approach to the contemporary cruise voyage is being shaped by a significant increase in customer interest in companies that have strong, established sustainability policies and ideals. According to new research, millennials are particularly ecologically sensitive when it comes to travel, with twice as many of them thinking about the effect of their travel-related carbon emissions.
In cruise lines' direct-to-consumer strategy, keeping customers informed, educated, and engaged with the newest product advancements and actionable plans is now more crucial than ever. Cruise lines have committed to sustainable practices such as eliminating single-use plastic, offering sustainably sourced food, partnering with wildlife organizations to create shipboard fundraising and educational programs, and going above and beyond to support local communities through their ports of call in order to cater to a new generation of travelers.
Many cruise companies are turning their attention to shoreside activities as tourists return to traveling in droves over the next year, some in quest of more personal, restorative experiences that promote destination development. Expedition and small ship operators are particularly keen on collaborating with indigenous communities and tour operators to produce unique experiences that have a beneficial economic effect. Cruise companies are also continuing to collaborate with groups like the Global Sustainable Tourism Council (GSTC), which guarantees that overseas locations' culture, ecology, and laws are safeguarded, to provide hundreds of GSTC-certified excursions across the world.
As the new cruise journey takes shape in a post-pandemic world, cruise lines – and the maritime industry as a whole – are collaborating in an effort to develop responsible environmental practices for a sustainable future. As the cruise industry reconvenes for its biggest annual event, Seatrade Cruise Global 2022 in Miami, FL, April 25-28, 2022, get the latest developments, trends, and new technology in cruise sustainability.
The "reasons for the rapid growth of cruise tourism" is a question that has been asked over and over. The answer to this question is not easy to find, but it is possible with an extensive amount of research.
Frequently Asked Questions
How can cruise lines be sustainable?
A: It is difficult to say how cruise lines could be sustainable. Cruise lines are able to provide a unique experience that can only be found on a cruise line, but they also have the potential for some negative effects such as environmental damage or animal abuse.
How are cruise ships becoming more environmentally friendly?
A: They are slowly becoming more environmentally friendly by increasing the amount of recycling on board, having environmental policy meetings and replacing anything that is deemed not to be environmentally friendly.
What are cruise ships doing to help the environment?
A: Cruise ships are on the forefront of environmentalism. With a company like Royal Caribbean, every single ship is required to have an Environmental Policy that includes things such as 100% recycling and zero waste!
Related Tags
importance of sustainable cruise tourism
how do you think we can manage the impacts of cruise tourism
cruise tourism environmental impacts
article about cruise tourism
areas of cruises that are assessed