As a travel writer, I have had the privilege of experiencing other cultures and places. This week in Morocco was one of my favorite trips yet! The country is breathtakingly beautiful with people who are warm and welcoming to travelers. Moroccan cuisine
is an exquisite combination of spices, herbs and everyday ingredients that you will find yourself craving long after your trip has ended. If this sounds like a place for you to visit-you're going to want to read on!.
Morocco is a country that has been on my bucket list for a long time. I got the chance to visit Morocco for two weeks in August and it was an exhilarating experience. Read more in detail here: 7 days in morocco.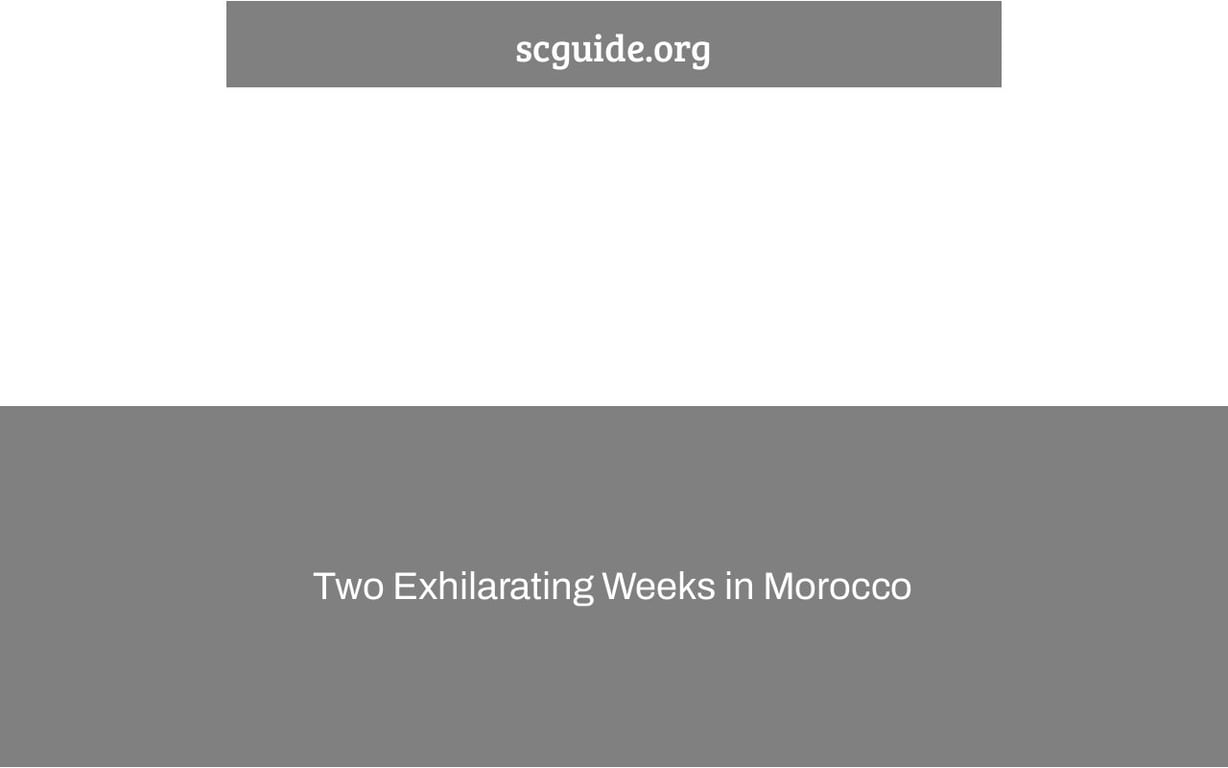 Welcome to Morocco, where the Sahara desert dreams come true, cities are mazes of blue, palaces are packed from floor to ceiling with beautiful mosaics, captivating music fills the air, and wafts of spices entice your senses…
I spent two thrilling weeks in Morocco with friends and other travel experts in October of 2021. Morocco has always appealed to me as a mystical nation, but I had no idea how much it would enchant and capture me. "Morocco is a sensation," as they say. Morocco, with its architecture, gastronomy, history, and, most importantly, its people, is a nation to which I feel everyone should go in order to experience the finest of what "tourism" has to offer. You can't help but fall in love with every facet of this magnificent place. Morocco, which is somewhat smaller than Spain or France, is home to a diverse range of landscapes. In one day, you may see the beach, the mountains, the oasis, and the desert!
ADVERTISING
What's Hot Right Now
We began our adventure in Marrakech, where I had never seen such opulence in a hotel before. I've never experienced pure luxury like the kind I had at many of Marrakech's 5-star hotels. In my own two-bedroom ryad, with a private courtyard and fountains and a crew that cleans in hidden passageways so as not to disturb the guests, I felt like a queen. Yes, I'm referring about the well-known Royal Mansour, which lived up to the hype. This magnificent "hotel" captures the spirit of Moroccan culture while surpassing the highest expectations of today's luxury tourist. The attention to detail in the tiling on the walls and artwork in the cedarwood in the ceilings, even down to the tiniest detail, stole my breath away.
We toured the medina and made friends with local craftsmen, shopped, went on fashion tours and met designers, took a cooking class, rode camels in the Agafay Desert, learned history, shopped some more, went to Majorelle Garden, went on a day trip to Essaouira, and played with goats in trees during our week in Marrakech. Yes, there are goats in trees! We also spent a night in the Atlas Mountains, staying in Richard Branson's Kasbah Tamadot, which is breathtaking. We walked into a nearby Berber hamlet from there and were welcomed into a family's house to sip tea with them. (Our interpreters provided the translation.) We were the first visitors since COVID, and the pupils were ecstatic to see us. We took all efforts to ensure that no Berber ever got ill from COVID, and we made sure it kept that way.
In Morocco, having a cup of tea. (Photo courtesy of Cali Hersh)
Morocco was one of the few nations that had never closed its borders to American visitors when we visited. While we were there, we met numerous Americans who were overjoyed that they had decided to come, despite the fact that they may not have done so in "normal" circumstances. In March of 2020, a colleague of mine visited Morocco and shot photos of an almost deserted medina. However, it was jam-packed and action-packed in October! Morocco's borders, meanwhile, were blocked in December and will not reopen until January 31.
We left Marrakech and returned to the Atlas Mountains, where we saw the most magnificent vistas and learned about Arab and Berber culture. We came to a halt at Ksar Ait Ben Haddou, which has served as the setting for several films and television series, including Game of Thrones. The following day, we arrived at the Sahara Desert, which was my particular highlight of the trip. We went on ATVs, camels, and watched the sun set and rise over the sand dunes. It was unlike anything I'd ever seen before. I consider myself fortunate to be a travel adviser, but I was struck by how glad I am to be able to explore the globe in this capacity. I was so moved by the beauty I was able to see directly that I sobbed with delight.
Morocco is a great place to go ATVing. (Photo courtesy of Cali Hersh)
We travelled north from the Sahara to Fez after leaving the Sahara. We fed monkeys on the side of the road, visited Fez's tanneries and medina, purchased pottery and donned the iconic goofy red hats, found old Roman remains in Meknes, snapped a million photos in Chefchaouen, and ate at Rick's Cafe in Casablanca. We spotted big groups of people down the road many times and wondered whether they were standing in line to get tested for COVID. They were all waiting to get vaccinated, it turned out.
There are no words or photographs that can do this country justice. Morocco must be on your travel bucket list in the near future if you like traveling. Morocco's food, art, and culture provide just the right amount of culture shock, while still providing the comforts of home, making it a safe and clean vacation. The people are quite kind and eager to discussing the positive and negative aspects of their contemporary political and cultural milieu. Follow me on Instagram @cali.hersh.travel to view more photos from my journey, and feel free to contact me for further information. I strongly encourage all travel advisers to recommend a DMC to their customers, and I'd be pleased to provide information on the amazing vendors that assisted us on our adventure.
Watch This Video-
Morocco is a country that has been on my bucket list for years. I was able to finally visit the country with my husband in February and it was everything I dreamed of and more. Reference: morocco itinerary from casablanca.
Related Tags
2 weeks in morocco
one week in morocco
how many days in morocco
6 days in morocco
5 days in morocco